B5028 Garden of Birds Vol. 2
Product Description
B5028 Garden of Birds Vol. 2
This new version does not contain a video lesson with the book, however you can choose your own video lessons from the book below! We have filmed 6 of the lessons for you to choose your favorites.

Join David in this beautiful study of artistic bird painting. In this volume Daivd will introduce you to some new fast painting techniques that capture what he calls the look of "bird portraits". These paintings make wonderful collections and displayed as groups of paintings in any home or studio.
Volume 2 of our popular series features over 500 step photos for the 8 lessons. New larger photo layout means easier reading and painting. In this volume, David shows you how to sketch your subject, draw an accurate representation, turning birds and placing multiple birds in pleasing arrangements that you can then turn into a beautiful work of art with a variety of techniques. New lessons on color theory and mixing as well as multiple palette choices so you can develop your own particular style. If you have ever wanted to learn how to artistically paint beautiful birds, this is the book and video set for you.
---
Extra Book Savings!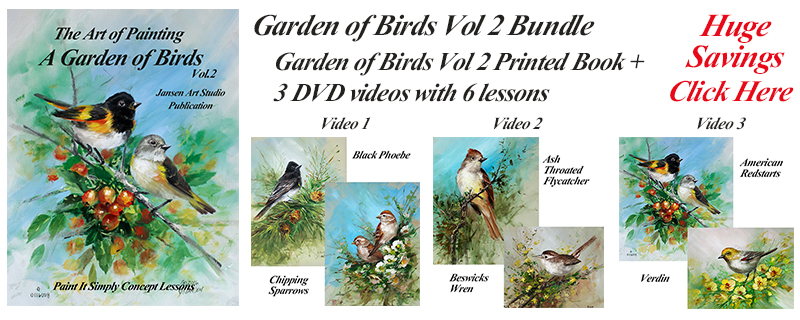 ---
Related Garden of Birds Vol 2 Products
| | | |
| --- | --- | --- |
| Garden of Birds Video 1 | Garden of Birds Video 2 | Garden of Birds Video 3 |
Palette
Naphthol Red Light
Red Violet
Pine Green
Burnt Sienna
Burnt Umber
Hansa Yellow
Titanium White
Carbon Black
Phthalo Blue
Brushes
Fusion 3/4 Inch Flat
Fusion Watercolor Flat- 4, 6, 8
Fusion Watercolor Round #4, #8
Optional- # 4 Bristle Filbert
Liquitex # 5 palette knife
Raphael 16684 # 3 Quill